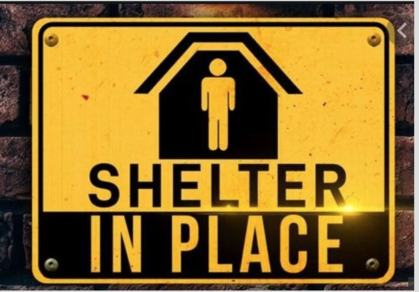 A place to share ideas for how to spend our time while sheltering in place. Robert and I have been looking for ways to connect with our grandchildren while we are all sheltering in place and unable to visit in person. Following are a few ideas that have worked for us.
REMOTE SCATAGORIES GAME. My son and his family in Petaluma and my daughter and her family in Virginia all connected with us using Skype or FaceTime or other remote conferencing app. If you don't have the actual game you can create it very easily. You need a timer, a list of "things", and slips of paper each with a different letter of the alphabet. To create the list of things, just identify 10 or twenty items and write each on a slip of paper. For example: Ice cream, Rivers, Things at the beach, etc.
Next create the game form and fill in by drawing "Things and Letters) The "Things" go in the Left hand column and have one person draw a Letter for the next Column. For example my granddaughter might pick the letter B. Just fill it in the top of the second column. Everyone starts with the same list and letter on his or her form. At the beginning of each new round you select a letter and add to the next column. Sample form: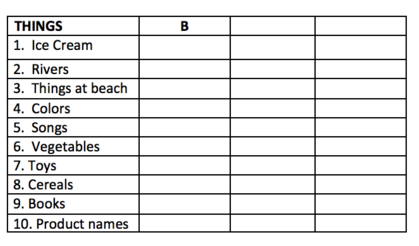 Now you are set to play. Everyone works alone quietly with his or her own form. Set a timer for 1 minute and start. Everyone tries to fill in the column under B with corresponding "Things". For example an ice cream might be Blueberry, River might be Big Wood River Idaho, etc. When time stops someone plays the MC and asks for answers one item at a time. If two or more participants name the same thing, they have to cross it out. Each unique answer gets one point. Continue by drawing a new letter and play again. After three rounds add up all unique "Things" and you have a winner. Note, if someone answered Beach Ball for Things at the Beach, and no one else did, they would get 2 pts.
PROGRESSIVE DRAWING. We took a piece of paper and put a few lines or shapes on it and mailed it to our grandson asked him and his parents each to add to the drawing with a few lines or shapes. Then they mailed it to my granddaughters in Virginia and they did the same before sending it back to us. Robert and I took the progressive drawing and tried to make something out of it, coloring in and adding a bit more to the picture. Finally we all joined on Skype and we showed them the final picture and told them a story we wrote from the picture. Our grandchildren are pretty young (7,9, 10) and they got a kick out of it. Now one of them will start the next one and have the responsibility at the end to write a story to share with us.
DANCE PARTY. We all joined on Zoom (you could use Skype) and then at each location we opened another device and found a kids dance video and went nuts dancing together. Two of the favorites were the Cha Cha Slide and the Electric Slide. The fun thing about Zoom was the ability to change the background and even have the kids fade in and out of the picture.
STORIES/JOKES: We have also read stories to the grandchildren and they have told us jokes before bedtime.
If you have something to share that might make sheltering in place a bit more tolerable, please send me a description and I will be sure it gets shared on this page. maggiecimino@gmail.com.
If you are having any difficulty with this website, please contact
Ray Waddell at (650) 996-2990 or unitedcaptain@hotmail.com